Blue Pacific is dedicated to educating ourselves on the rich culture and traditions of our diverse team. Whether it's the colorful pan de muerto of Mexico, the spicy glühwein of Germany, or the fragrant fruit stews of Persia, we've learned a lot about each other through flavor. Today we celebrate Lunar New Year, one of the biggest holidays in Asian culture, and an important holiday for many Blue Pacific employees. We are proud to share this personal perspective on the Lunar New Year, as told by our Chinese, Korean, and Malaysian team members. Their holiday flavor memories are guaranteed to make your mouth water! Join our BPFamily as we ring in The Year of the Ox.
A Holiday Dating Back Thousands of Years
Lunar New Year, commonly called Chinese New Year and Spring Festival, is the most important holiday for many Asian cultures. Celebrated by millions of people in China, Korea, Malaysia, and other Asian countries, Lunar New Year is a festival of family, friends, good fortune – and delicious flavors!
Lunar New Year originated in China over 3,500 years ago. Although the exact date of the first festival isn't recorded, it's thought that Lunar New Year began sometime during the Shang Dynasty (approximately 1600 – 1046 BCE), originating from a tradition of holding ceremonies to honor gods and ancestors at the beginning of each new year.
One popular story says a mythical dragon-like beast named Nian would visit the villages yearly on New Year's Eve, eating the people's livestock and crops. The villagers would put food out on the doorstep in hopes of preventing Nian from his annual destruction, but to no avail. One year, a wise man figured out that Nian was terrified of the color red and loud sounds, so people began to hang red lanterns and scrolls on their homes and used firecrackers to scare Nian away. Several modern-day Lunar New Year traditions harken back to the story of Nian.
Since the festival is based on the lunar calendar (which follows the cycles of the moon), the date of the holiday varies slightly from year to year, but it's always held sometime between January 21 and February 20. In China, the preparation for the festivities typically begin seven to ten days before Lunar New Year's Eve; bright red lanterns are hung, houses are deep-cleaned, new clothes are purchased, and old debts to friends and family are settled in preparation for resetting karma and encouraging good fortune for the year ahead.
"Red represents happiness, good fortune, luck, and prosperity," shares Lydia Ewe, Purchasing Manager and Communications Coordinator based in Suzhou, China. "Since it's such an auspicious color, people traditionally wear it for big celebrations such as the New Year." Red clothing and decorations are often accented by vibrant touches of gold, another traditional holiday color.
Each new year is also associated with an animal and an element from the Chinese Zodiac. The Chinese Zodiac is similar to the Western Zodiac, but with some important differences. The Western Zodiac is divided into 12 signs, each one ruling approximately 30 days. The Chinese Zodiac is also divided into 12 signs, but it's based on the lunar calendar rather than the Gregorian calendar of the Western Zodiac. The Chinese Zodiac features a dating method of 60-year cycles based on 12 different animal signs and five different elements. Each year is represented by an element (wood, fire, earth, metal, or water) and an animal (rat, ox, tiger, rabbit, dragon, snake, horse, sheep, monkey, rooster, dog, or pig).
Similar to Western astrology, each animal sign and element also has a set of characteristics and personality traits associated with it, but these characteristics apply to an entire year, rather than a month. For example, 2021 is the Year of the Metal Ox.
A Closer Look at the Festivities
Although there are some differences in how each Asian culture celebrates Lunar New Year, food and family are two very important commonalities. We talked to several of our team members to learn how the holiday is celebrated in their culture.
China
In China, the holiday is very festive, featuring dragon dancers, fireworks, and firecrackers. Sweeping the home is traditional, as it symbolizes clearing the old to make way for the new. Many people will visit Miaohui (also called yíngshén sàihuì, which translates to "collective rituals to greet the gods") religious gatherings at temples which are held to worship Chinese gods and immortals. Some of the most popular foods served are roasted pig, nian gao (rice cakes), fish steamed with ginger and soy sauce, longevity noodles, hot pots, peng cai (Mandarin for basin feast), and beer.
Lishuang "Li" Zheng, our Technical Assistant and R&D Administrator for the Blue Pacific Flavor Lab adds, "Where I'm from in China (Fujian), we're known for seafood and noodles. Many of the varieties of seafood found in China can't be found here [in America]. Dinner often includes fish, shrimp, crab, fried chicken, and duck. My mom will wake up around 5 am to prepare longevity noodles for the whole family. Toppings for the noodles include eggs, mixed veggies, chicken or pork, shrimp, peanuts, fried seaweed, and cilantro."
Many of the foods eaten during Chinese New Year symbolize luck, prosperity, and togetherness. Nian gao correlates to the phrase "nian nian gao sheng" which means "increasing prosperity year after year." Longevity noodles, which are longer than typical noodles, symbolize luck, happiness, and of course, longevity. They're typically served either fried or boiled, and the length of the uncut noodles are seen as an indicator of the longevity of one's life. Tanguan, sweet rice balls, are eaten throughout the festival and symbolize reunion and coming together with family. Fish of many kinds is seen as a symbol of prosperity and unity, although the meaning can change slightly based on how the fish is prepared. Dumplings and spring rolls traditionally symbolize wealth, and hot pots, a commonly shared savory soup, symbolizes unity and equality.
Lydia Ewe, Purchasing Manager and Communications Coordinator for Blue Pacific China says, "Reunion dinners with family are the highlights of Chinese New Year gatherings. If I'm in China during this period, it would mean I'm away from family. I would usually gather with my closest friends who are also away from their families at a time like this to remind us of our roots and enjoy the companionship of friends as we feast in thanksgiving. Food flavor brings back and triggers memories of the distant past, of good times and is a crucial part of the Asian culture we come from."
Korea
In Korea, the Lunar New Year (called Seollal) is typically celebrated for three days, coinciding with the start of the lunar calendar; however, some Koreans will celebrate it at the start of the solar calendar, on January 1st. It's a three-day event that centers around family and honoring ancestors. In the United States, Seollal is often a time for gathering with friends, as well. Kenny Han, Blue Pacific's Sales Director for Korea adds, "During Korean New Year, the whole family gathers at father's house to cook foods and play games. On the morning of the second day, we do a memorial ceremony for our ancestors. We used to go to an ancestor's grave before, but now we go to a charnel house or church."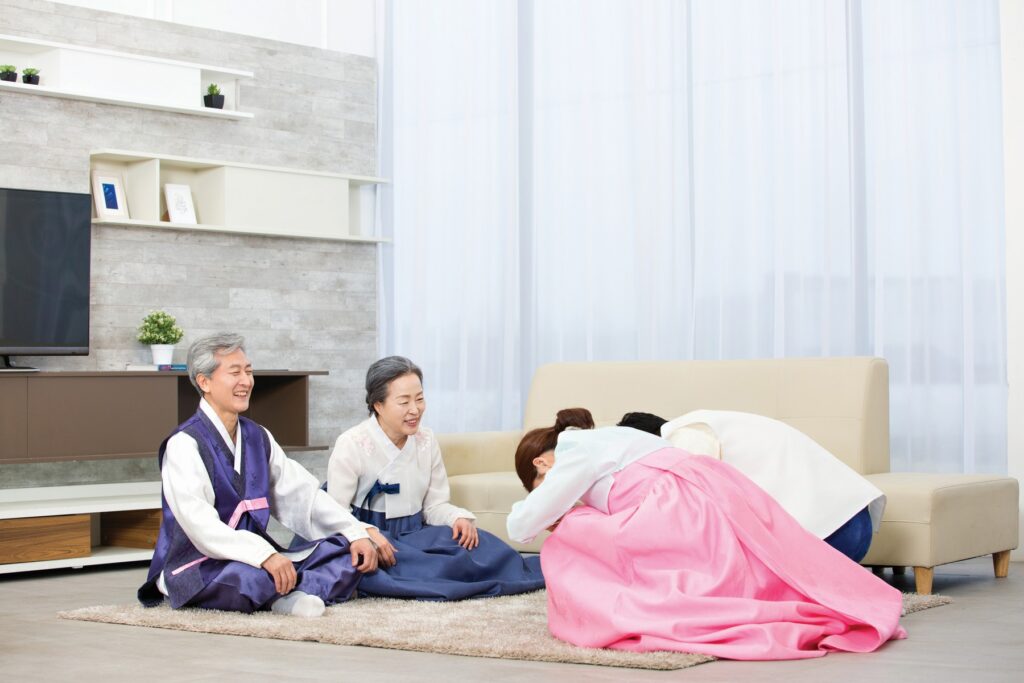 One of the most ceremonial rituals in Korean New Year is seh bae, a deep bow to the floor. It's only performed during formal occasions, like weddings, funerals, and traditional holidays, and is an important way to honor one's ancestors. Kenny remembers seh bae from when he was a child: "We did a New Year bow to elders, and the elders would give money to whoever bowed. So, when we were kids, we tried to bow as much as we could to get money. After we were adults, we didn't get any money for the bow!" Liz Kim, from our customer service team, also shared an amusing memory she has of seh bae: "When I was very young, my dad said he would keep all the money I received from bowing so I wouldn't lose it, but I don't have any memories of getting it back!"
Food and drink are also offerings to the spirits of ancestors. After seh bae, a traditional New Year's soup called duk guk is often served. This is a starchy, umami comfort food made from sliced rice cakes in a broth (traditionally beef), along with a protein, garlic, and scallions. Occasionally the rice cakes may be substituted for Korean dumplings. Egg jidan (sliced egg crepe) is a traditional garnish, or a bit of egg may also be beaten into the boiling soup. Like traditional Chinese New Year foods, duk guk is symbolic; the white rice cakes represent a clean start and new beginning.
Liz shares, "Koreans turn a year older at the beginning of the new year, not their birthdays, so parents tell their children to eat their food if they want to be a year older! They would also have fun saying that you'd turn a year older for every bowl of soup, so if you had three bowls of soup, you'd turn three years older."
Winter fruits like apple, strawberry, and tangerine may also be served, along with Kenny's personal favorite, yakgwa, a traditional Korean flower-shaped cookie made from wheat flour, honey or grain syrup, sesame oil, and ginger. Other popular foods include galbi jjim (braised short ribs) and jeon (Korean pancakes). A favorite traditional winter drink of Kenny's is sik-hye, which is a moderately sweet concoction of water, malted barley flour, sugar, and cooked rice.
Malaysia
In Malaysia, the Lunar New Year celebrations are very similar to those in China. Typically homes are thoroughly cleaned to push out any remaining bad luck before the start of the new year. Lion dancers and fireworks are commonly found at many public celebrations, particularly on the 9th day, which commemorates the birth of the Jade Emperor. Red lanterns and decorations are hung outside the home and families come together to share in the festivities. It's common for many people to give cards to friends and relatives, and the holiday is seen as an optimistic time when debts are settled and a new start can be made.
Jack Tew, Managing Director of Blue Pacific's Asia operations adds, "We always try to visit all our relatives and friends during this period. So there is always a lot of catching up, fun, and eating involved. The kids always look forward to getting an 'ang pow' which essentially means a red packet with money inside. Married couples are supposed to give these 'ang pows' to the unmarried ones as a blessing."
As in China, many of the foods served are intended to bring good luck for the new year. Yee sang is a common new year specialty; a savory salad made with different types of vegetables, salmon, dumpling wrappers, and seasoned with hoisin sauce. One fun tradition many families enjoy is to place the salad in the middle of the table and then everyone tosses their chopsticks in the air. The higher the chopsticks fly, the better their good fortune will be in the coming year.
"In the past, we always served colorful sugary confections (like gelatin candies, pickled plums, local rolled wafers, sunflower and watermelon seeds, and Mandarin oranges) along with carbonated soft drinks and local herbal drinks, like chrysanthemum," Jack says. "Nowadays, people serve more healthy stuff, like tea, cereal cookies, and less sugary treats like prawn crackers. One of my favorite New Year's foods is pineapple tart cake, a local Malaysian delicacy."
A Family Built On Flavor
We feel truly grateful to have a diverse team to share memories, traditional flavors, and cultural heritage with! Thank you to all our team members for volunteering your time and stories. We hope this has given you some insights into the flavors and traditions of Lunar New Year, and particularly, how food continually keeps us all connected, even in times when we are physically apart.
From all of us at Blue Pacific, we wish you all a very happy Year of the Ox!
References
1. Chinese New Year History: an Origin from 3,800 Years Ago. (2019). Travelchinaguide.com. https://www.travelchinaguide.com/essential/holidays/new-year/history.htm.
2. Chinese New Year in Malaysia | Attractions | Wonderful Malaysia. (2013). Wonderfulmalaysia.com. http://www.wonderfulmalaysia.com/attractions/chinese-new-year-in-malaysia.htm.
3. Holloway, April. (n.d.). The Origin of Lunar New Year and the Legend of Nian. Www.ancient-Origins.net. https://www.ancient-origins.net/myths-legends-asia/origin-lunar-new-year-and-legend-nian-001289.
4. How to Celebrate the Lunar New Year in Malaysia. (n.d.). Www.allied.com. Retrieved January 29, 2021, from https://www.allied.com/my/news-and-articles/how-to-celebrate-the-lunar-new-year-in-malaysia.
5. Learn All About Korean Lunar New Year Festivities and Foods. (n.d.). The Spruce Eats. https://www.thespruceeats.com/korean-new-year-celebrations-2118611.
6. Lunar New Year | festival | Britannica. (2019). In Encyclopædia Britannica. https://www.britannica.com/topic/Lunar-New-Year.
7. Sebae, Ritual Bow – South-Korea – korea4expats. (n.d.). Www.korea4expats.com. Retrieved January 29, 2021, from https://www.korea4expats.com/article-formal-ritual-bows-korea.html.
8. Tang, C. (2019). Chinese New Year History. China Highlights. https://www.chinahighlights.com/travelguide/festivals/chinese-new-year-history.htm.
9. TJQ. (2014). Chinese New Year Food: Top 7 Lucky Foods and Symbolism. China Highlights. https://www.chinahighlights.com/travelguide/chinese-food/chinese-new-year-food.htm.
10. Tteokguk (Korean Rice Cake Soup). (2020, January 1). Korean Bapsang. https://www.koreanbapsang.com/tteokguk-korean-rice-cake-soup/.