This month's recipe comes from Blue Pacific's Sensory & Consumer Insights Manager, Jessica Morton! The Olallieberry is a blackberry/raspberry hybrid developed by the U.S. Department of Agriculture at Oregon State University in 1949. They were made commercially available in 1950 and quickly became one of the most prized members of the blackberry family. Ollaliberries are naturally sweet, with a bright tartness and a deep wine-like note that makes them perfect for jams, pies, sauces, and dressings.
Jessica's introduction to the Olallieberry began in her late teens and 20's, while she was going to school and working in San Luis Obispo, California. This beautiful town, just a few miles inland from the Central Coast, still maintains the farm to flavor way of life that put California Polytechnic State University – one of California's top agriculture colleges – on the map.
"As a Food Science student at Cal Poly SLO, I remember making Olallieberry jam in the pilot plant in steam-jacketed kettles, breathing in the summer ripe fruit flavors, always wondering what this "mystery" berry with the funny name was," Jessica said. "I knew it had been popularized by a farm-to-fork bakery and restaurant in nearby Cambria called Linn's, but other than that I had never heard of it before…or since."
Flash forward 20 years later, to the summer of 2020, when Jessica and her boyfriend took a weekend trip to Cambria and stopped at Linn's Fruit Bin for a bite. "We literally ate three breakfasts (in a row!) at Linn's where we became connoisseurs of the amazing olallieberry," she said. "I finally had 'discovered' the origin of my mystery berry!"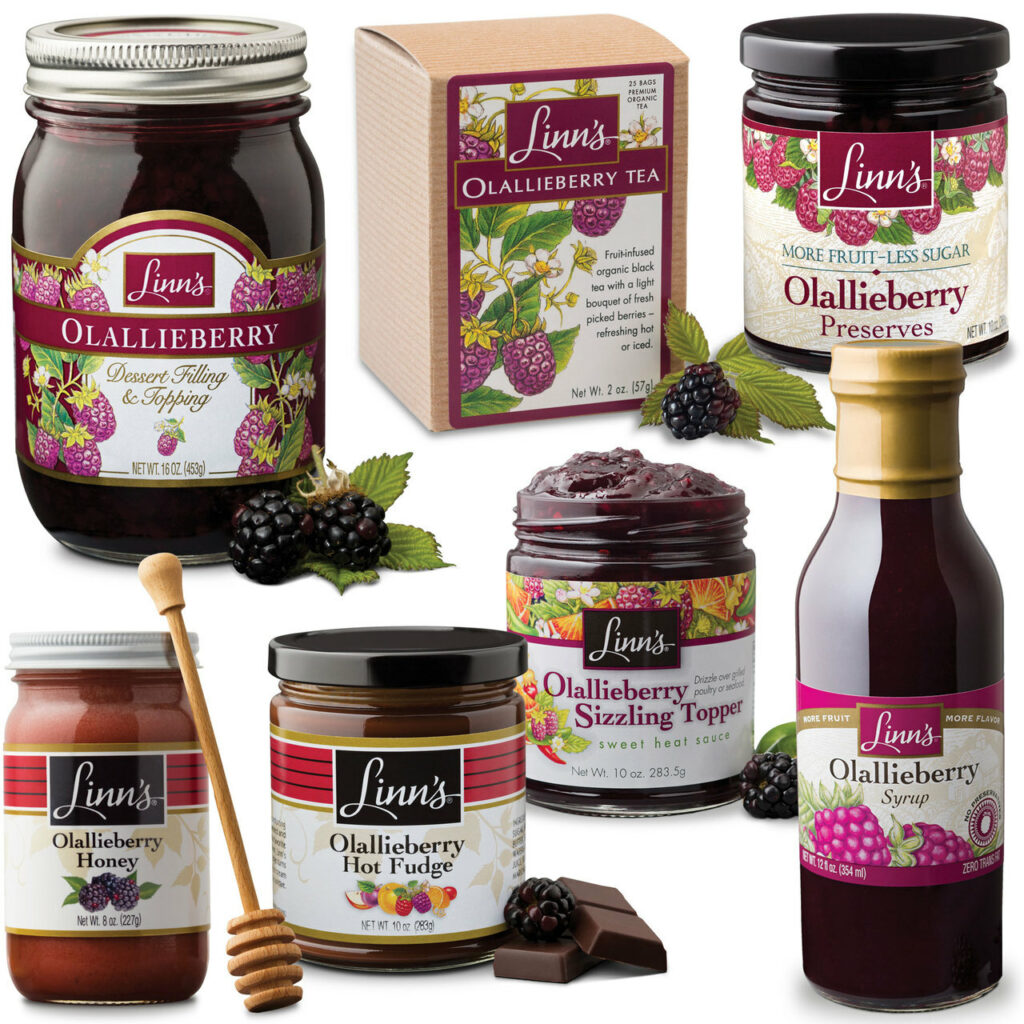 Linn's offers an unbelievable assortment of syrups, jams, preserves, dressings, sauces, and of course, PIES made from these humble little flavor producers. Jessica bought a bottle of olallieberry dressing and was inspired to create this harvest salad that showcases fall's natural fruit flavors. The creaminess of the avocado and camembert cheese, the crunch of the pistachios and beet chips, and the juicy flavor burst of pomegranate arils provide the perfect symphony of complementary flavors and contrasting textures for the star of the salad: the olallieberry!
Thank you, Jessica, for sharing this flavorful salad with us! Try it tonight, and discover why the ollalieberry is considered by many to be the "king of blackberries"!
Harvest Salad with Olallieberry Dressing
4 c. mixed spring salad greens
1 small avocado, pitted and cubed
1 Fuyu persimmon, cubed
2 tbsp. lightly salted pistachio nutmeats
¼ c. pomegranate arils
¼ c. lightly salted beet chips
4 oz. camembert cheese, sliced
1 Fuyu persimmon, thinly sliced
In a large mixing bowl, toss the salad greens with the avocado, cubed persimmon, pistachios, pomegranate, and dressing. Serve with lightly crumbled beet chips and slices of cheese and persimmon arranged on top. Serves 4.