At Blue Pacific, we like to keep a pulse on consumer preference – not just for the tastes of today, but for the flavors of tomorrow, too!
We asked over 1,200 consumers to pick a new fruit to wear "Fall's Favorite Flavor" crown. While some consumers didn't want to give up the traditional heavy hitters pumpkin and apple (and why should they?), many more were excited about trying a wider variety of flavors in Fall seasonal food and beverage products.
Bottom line? Go red and you won't go wrong! Over 50% of consumers chose the ruby beauties Cranberry or Pomegranate as their top choice for Fall's New Fruit Flavor. Both of these fruits have a sweet and tart profile, with wine and berry notes. Both are also renowned for their health benefits. Incorporating cranberry or pomegranate into a seasonally flavored product addresses two important cold weather consumer drivers: comfort and wellness. Any time you hit more than one major driver, you are well on your way to product success!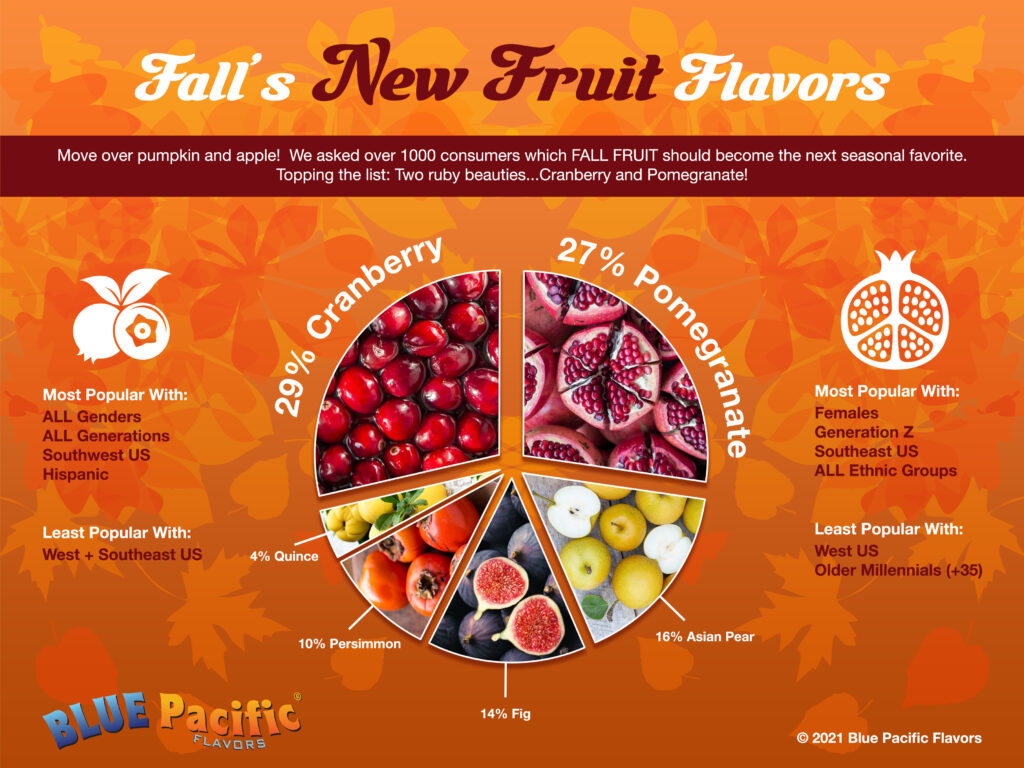 It's no secret: seasonal flavors are a big brand differentiator in today's highly competitive food and beverage market. Adding Fall flavors to your portfolio is a great way to attract new customers – while keeping core customers excited and engaged. We are especially excited by the rise in consumer preference for two of our favorite Fall fruits, Nashi (Asian) Pear and Persimmon. Longtime favorites in Asian cuisine, Nashi pear and persimmon are at last gaining momentum in the US market. We think they are the perfect "what's next?" fall seasonals for today's increasingly diverse and globally curious consumer (and if our research is any indication, consumers agree!).
If you are looking for old world charm, don't forget the classic flavors of Fig and Quince. Although we found that both fruit flavors have universal appeal across generations, there were significant skews in preference by ethnic group (white consumers were more likely to prefer fig, and black and hispanic consumers were more likely to prefer quince.) Fig and quince flavor would be successful in products targeted to the gourmet-inspired consumer, where nuanced profiles and a rich culinary history are highly desired.
Six Fall Flavors to Try
What flavors would consumers like to try next in a Fall seasonal product?
1. Cranberry
Tart, traditional, and totally American, the cranberry takes top prize. Think about the seasonal flavor possibilities: Cranberry and cream cupcakes, cranberry bellinis, cranberry salsa, and cranberry orange seltzer. Cranberry is a Fall favorite – and it's healthy, too!
Request a CRANBERRY flavor sample
2. Pomegranate
Tangy-sweet with a perfumey, wine-meets-berry flavor, pomegranate is perfect for all kinds of beverage and sauce applications. Its healthy reputation also gives pomegranate an edge in wellness products. Try it in a Fall non-alcoholic wine or cocktail!
Request a POMEGRANATE flavor sample
3. Asian Pear
Showcasing hints of honey, vanilla, and golden apple, the Asian Pear (Nashi Pear) is sublimely divine! Try it in a chamomile tea or pair with persimmon and cinnamon for a signature fall flavor. This flavor is especially suited for authentic and inspired Asian products.
Request a ASIAN PEAR flavor sample
4. Fig
Fig is mellow, fig is sweet, fig is succulent…and with its amethyst exterior and garnet red center, fig is a perfect jewel of a flavor! This fruit pairs beautifully with sweet (vanilla, caramel, chocolate), berry, and citrus flavors. Welcome Fall with a figgy bourbon, a fig and plum tea, or a fig energy bar!
5. Persimmon
We love the mellow, ripe melon, and spicy sweet notes of a fresh persimmon! It's a great flavor for bakery applications, but why not try it in a plant-based ice cream or yogurt? Persimmon and apricot brandy is a Fall spirits concept we'd love to see come to life. What would you use it in?
Request a PERSIMMON flavor sample
6. Quince
Though it didn't earn a lot of votes (mostly because consumers aren't familar with it), quince is a flavor that should have a place on the Fall seasonal flavor list. With notes reminiscent of Golden Delicious apple, d'Anjou pear, and Meyer lemon, it's easy to see why quince fits for Fall!
Request a QUINCE flavor sample
It's never too early to think about flavor offerings for next Fall. Reach out to our flavor and applications team to discover even more ways to add fresh seasonal flair to your food and beverage products!