Dr. Martin Luther King, Jr. would have turned 92 years old today. In memory of Dr. King and in recognition of his birthday, we'd like to share a recipe for his favorite dessert: pecan pie.
Many historical sources share that pecan pie – not ice cream, and not cake! – was King's favorite treat. As a Georgia-born Southerner, it's no surprise that he loved this classic Southern dessert. No doubt he enjoyed it on many birthdays, a time when we celebrate with the foods that bring us comfort and joy.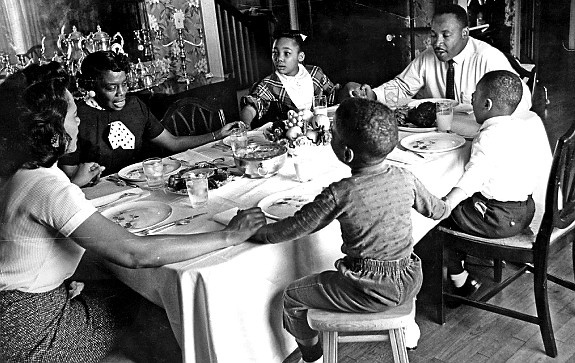 King grew up in Atlanta, Georgia, a city rich with Southern food heritage. His childhood home still stands at 501 Auburn Avenue, not far from the church where he began his mission – and sadly, where he was laid to rest far too soon. King's food memories were heavily influenced by the regional flavors of Georgia, of which the pecan is a star player. Georgia is the top producer of this indigenous tree nut, and while the state can't lay claim to the invention of pecan pie (no one knows for sure, but most sources give the nod to Texas), it was definitely responsible for advancing the pie's popularity. During King's youth, pecan pie was a frequent dessert on Atlanta restaurant menus and at family meals, so there's little wonder how he fell in love with it.
When you taste pecan pie, you can perhaps, through food, connect with those moments that brought him happiness and delight. Pecan pie is a deliciously rich concoction of flaky buttery pie crust, sticky-sweet brown sugar and vanilla custard, and chewy, lightly toasted pecans with just a smidgen of salt. When it comes to desserts, pecan pie certainly tips the scales as one of the sweetest and most decadent! Substituting a slice of this special pie for birthday cake would make any Southerner smile.
Martin Luther King, Jr. was a remarkable man with a remarkable message. His dream was that people of all races and creeds could join hands at the same table. We share this authentic Atlanta pecan pie recipe in celebration of King's birthday. We hope it offers an opportunity to honor MLK, reflect on his dream, and welcome new friends to your own table.
Pecan Pie
This recipe is from Callie Williams, the pecan pie baker for the Magnolia Tea Room (a restaurant located in Rich's department store in Atlanta, Georgia). This is significant, as Dr. King personally helped desegregate the restaurant in 1960. Her recipe was originally published in the New York Herald Tribune on July 17, 1949.
3 eggs
2 tablespoons melted butter or margarine
2 tablespoons flour
1/4 teaspoon vanilla
1/8 teaspoon salt
1/2 cup sugar
1 /2 cups dark corn syrup
1 1/2 cups broken pecan halves
1 unbaked 8-inch pie shell (freshly made or frozen)
Beat eggs; blend in melted butter, flour, vanilla, salt, sugar and syrup. Sprinkle the pecans evenly over the bottom of the unbaked pastry shell. Next, gently pour the syrup and egg mixture over the nuts. Bake at 425 degrees for 10 minutes, then reduce the heat to 325 degrees and bake about 40 minutes more. The pie is done when the crust is golden and the custard is set in the center (firm, not liquid). Eat to the strum of banjos!